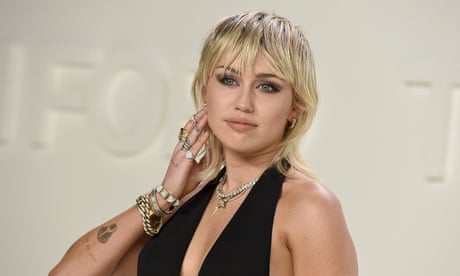 (Columbia)
After years trying to reconcile chart success with her leftfield musical instincts, the singer has delivered a hazily atmospheric album that plays to her provocative strengths
Alexis PetridisFri 10 Mar 2023 07.40 EST
It says something about the degree of anticipation around Miley Cyrus's eighth studio album that it was leaked, turning up on illegal download sites a good 24 hours before its official release. It's a phenomenon that feels faintly old-fashioned. You might have thought the whole business of leaking albums belonged to a past era, before streaming supplanted downloads, and that people are now largely happy to adhere to the schedule knowing they'll be able to stream the album for free when it arrives.
But apparently there are exceptions. Such is the power of a hit like Endless Summer Vacation's lead single, Flowers. It's hit No 1 everywhere from Poland to Paraguay, seven weeks and counting at the top of the British charts, its lyrics and video painstakingly scanned by a media and fanbase eager to discover references to Cyrus's ex-husband Liam Hemsworth, three years after their divorce.
Or perhaps people are just eager to see what Miley Cyrus does next. Ever since she broke loose from her early persona as a squeaky-clean Disney star, her career seems to have been governed by two competing impulses. The first is to be a 21st-century pop star, making the kind of committee-written electronic hits that 21st-century pop stars tend to make, as was the case with her 2013 album Bangerz. The other is to be a more traditional or even leftfield artist, making records that highlight the Stevie Nicks-ish qualities of her voice: the Miley Cyrus who roared her way through a lockdown cover of Pink Floyd's Wish You Were Here, who followed up Bangerz with the Flaming Lips collaboration Miley Cyrus and Her Dead Petz, then followed that up with 2017's country-rock flavoured Younger Now.
The public seems to have decided which Cyrus they prefer – trailed by a duet with Dua Lipa and the disco-flavoured Midnight Sky, her last album Plastic Hearts did substantially better than its two predecessors – but if Cyrus was that bothered about public opinion, she would never have shaken off her Disney shackles in quite such uncompromising style.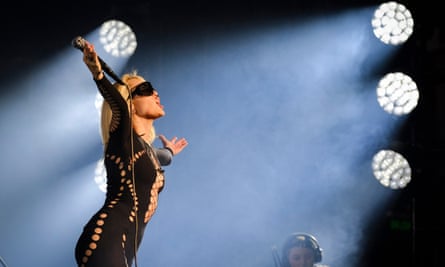 In fact, Flowers suggests Cyrus might have managed to entwine her competing impulses more successfully than on Plastic Hearts, where vaguely antiseptic "rock" tracks and guest appearances from Joan Jett and Billy Idol sat a little uncomfortably alongside floaty synth-pop and big arms-aloft ballads. It is, after all, a song that does a lot of very 21st-century pop things: it references Bruno Mars' 2013 single When I Was Your Man and knowingly nods to an august classic, Gloria Gaynor's I Will Survive. It also deploys the fashionable device of scattering in a trail of clues about its real-life subject. But with its shimmering electric guitar and understated yacht-rock mood, it sounds like it might have been recorded in a studio adjacent to the one where Fleetwood Mac put the finishing touches on Rumours (a sense underlined by the demo version that closes Endless Summer Vacation, featuring Cyrus singing accompanied only by soft electric piano).skip past newsletter promotion
Sign up to Sleeve Notes
Free weekly newsletter
Get music news, bold reviews and unexpected extras. Every genre, every era, every week
https://www.google.com/recaptcha/api2/anchor?ar=1&k=6LdzlmsdAAAAALFH63cBVagSFPuuHXQ9OfpIDdMc&co=aHR0cHM6Ly93d3cudGhlZ3VhcmRpYW4uY29tOjQ0Mw..&hl=en&type=image&v=MuIyr8Ej74CrXhJDQy37RPBe&theme=light&size=invisible&badge=bottomright&cb=r84xuiag5iehPrivacy Notice: Newsletters may contain info about charities, online ads, and content funded by outside parties. For more information see our Privacy Policy. We use Google reCaptcha to protect our website and the Google Privacy Policy and Terms of Service apply.
after newsletter promotion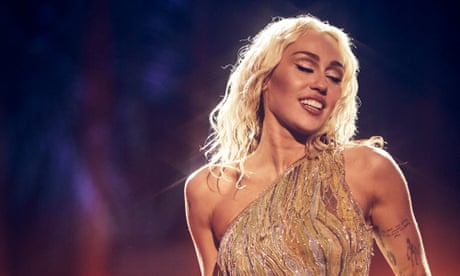 Flowers sets the tone for a considerable chunk of the album, which deals in well-written pop songs dressed up in arrangements that – with their acoustic guitars, rhythm tracks apparently recorded live, pianos and soft washes of synthesizer – nod in the direction of mid-70s LA without seeming wilfully retro. The Brandi Carlile duet Thousand Miles is probably the finest example of this, but it's all high-quality, melodically robust and hooky, the softness of the arrangements pointing up the gritty huskiness in Cyrus' vocals.
Whether you think the whole business of seeding songs with clues about real-life intrigue is a tiresome and cynical exploitation of prurient public curiosity, a pragmatic response to the constant surveillance of celebrities' lives or just confessional songwriting retooled for the age of social media speculation is up to you. But Flowers has proven it's a well-worn trick that still works, and there's more of it here. You can virtually hear the click-clacking of gossip-blog posts being typed in the background of Jaded – in which Cyrus lets an ex have it with both barrels – and Rose Colored Lenses's languid depiction of post-coital bliss.
Essentially divided along old-fashioned side one/side two lines, the album's second half shifts the instrumentation towards electronics while skilfully maintaining the hazy mood. Even when River deploys a dancefloor pulse and a Roland 303 acid line, the transition doesn't feel jolting. It throws in some relative weirdness on Handstand, which melds soft ambient synths with a spoken-word monologue – "glowing creatures beamed down from great heights, electric eels in red venom" – and a chorus that trumpets Cyrus' sexual prowess. In the WTF? stakes it's nothing to match Dead Petz's Fucking Fucked Up or Miley Tibetan Bowlzzz, but still substantially odder than anything you could imagine her peers sticking on a hotly anticipated new album.
It loses a little steam towards the end. Island tries to conjure a laid-back mood but just sounds bland – you could imagine the Goombay Dance Band singing its chorus – and Wildcard feels too boilerplate, one of those weird pop songs that keeps insisting on its author's untameable individuality while sounding almost wilfully homogenised.
But Endless Summer Vacation doesn't often feel like a pop star going through the motions or ticking boxes. Nor does it feel as forced as Plastic Hearts' attempt to meld Cyrus's divergent interests into a coherent album. There's a naturalness and a flow in evidence, and charm, too. You can't imagine anyone who rushed to the download sites was disappointed with what they found.
I hope you appreciated this article. Before you move on, I was hoping you would consider taking the step of supporting the Guardian's journalism.
From Elon Musk to Rupert Murdoch, a small number of billionaire owners have a powerful hold on so much of the information that reaches the public about what's happening in the world. The Guardian is different. We have no billionaire owner or shareholders to consider. Our journalism is produced to serve the public interest – not profit motives.
And we avoid the trap that befalls much US media – the tendency, born of a desire to please all sides, to engage in false equivalence in the name of neutrality. While fairness guides everything we do, we know there is a right and a wrong position in the fight against racism and for reproductive justice. When we report on issues like the climate crisis, we're not afraid to name who is responsible. And as a global news organization, we're able to provide a fresh, outsider perspective on US politics – one so often missing from the insular American media bubble.
Around the world, readers can access the Guardian's paywall-free journalism because of our unique reader-supported model. That's because of people like you. Our readers keep us independent, beholden to no outside influence and accessible to everyone – whether they can afford to pay for news, or not.
Miley Cyrus: Endless Summer Vacation.
Summer Vacation Endless Miley Cyrus
Endless Summer Vacation': What We Learned From Miley Cyrus' Sharpest, Most Independent Album Yet