Expand your knowledge. Whether you're a beginner looking to define an industry term or an expert seeking strategic advice, there's an article for everyone.
Your time is valuable. Cut through the noise and dive deep on a specific topic with one of our curated content hubs.
We have all the tools and downloadable guides you need to do your job faster and better – and it's all free.
We have all the tools and downloadable guides you need to do your job faster and better – and it's all free.

Expand your knowledge. Whether you're a beginner looking to define an industry term or an expert seeking strategic advice, there's an article for everyone.
Your time is valuable. Cut through the noise and dive deep on a specific topic with one of our curated content hubs.
We have all the tools and downloadable guides you need to do your job faster and better – and it's all free.
Interested in engaging with the team at G2? We're always looking for experts to contribute to our Learning Hub in a variety of ways. Check it out and get in touch!

May 30, 2019
You know what you want to say. The question is how you get it out there.
So much content on the internet will extoll the ease with which anyone can make a podcast. And for the most part, that's true; it doesn't take years of practice or a long career in a production facility to have the know-how to put out a killer show.
That being said, starting a podcast isn't as easy as turning on a microphone and rambling for an indiscriminate amount of time. There are certain steps you need to follow in order to create a scintillating show that will perform well amongst your intended audience and compete with the best of the best.
If you're interested in a particular part of this guide, feel free to move ahead to an area that is most relevant to you.
Five step podcasting plan:
One of the most important parts of starting a podcast is choosing a topic you're passionate about and can commit to. Consistency is key when starting a podcast, and having something you're excited to talk about on a regular schedule is critical for keeping your own momentum up, especially in the early days of your podcast when you're still building your listener base.
Our previous guide, Podcasting 101, covers the elements of a good podcast, ways to generate a compelling idea for your own, and an overview of how podcasting works. I recommend you start there before forging onwards to create your own show.
Equipped with that knowledge, you'll be in an excellent position to leverage the 5 steps listed below.
Once you've reviewed the Podcasting 101 guide, you're ready to begin crafting your show. We've done the heavy lifting for you and outlined a simple five step process you can follow to create your own podcast. Check it out.
Every podcast episode you record should be thought of as its own self-contained story. Becoming comfortable with this mentality is one of the most critical aspects of starting a podcast. People will be far more predisposed to form an emotional attachment to your content if you're purposeful about including the basic elements of storytelling into your shows; namely an inciting incident, a midpoint, and a resolution.
An excellent way to accomplish this is through writing a script for your podcast episodes before you sit down and hit 'record'. A podcast script is an excellent place for you, as the content creator, to map out the structure, tone, and the main idea of your show.
Furthermore, writing a script for your podcast ahead of time will allow you to decide on how best to deliver the information. Inflection, pauses, and speech marks are all part of a good script that will serve as valuable performance notes when you're recording your show
If you want more information on scripting as well as templates you can use, check out our podcast script guide here.
Once you've decided on how you want to structure your show, the next important step is to flesh out an intro and outro to frame each episode.
The podcast intro is one of the least emphasized elements in many podcasting guides despite the fact it does a tremendous amount of heavy lifting when it comes to growing your listener base. The intro to your podcast is when you get to make your first impression to a prospective audience and establishes the tone of the show. Doing this is critical because — whether you intend it to or not — the way your podcast intro sounds makes a promise to new listeners about the kind of content they can expect over the course of the episode, something that is a huge part in the quick decision making that is at the heart of content consumption.
While there are countless ways to execute an intro for your podcast, you can find a few common elements here:
The outro to your podcast serves an extremely different yet no less critical role for your show. If the intro is meant to draw in new audiences, the outro is meant to leverage that audience into meaningful growth for your podcast. If someone's made it through your entire show, there's a good chance their well on their way to becoming a regular, dedicated listener. Armed with this knowledge, you should feel empowered to close your show with a call to action such as asking them to subscribe to the show or leave a review on a widely-used platforms such as iTunes.
One final point on podcast intros and outros: you want to standardize these once you have a format you're happy with so people know what to expect and can build a shared experience across the listener base.
Not every podcast needs to include an interview to be successful. Narrative podcasts generally eschew this practice for a more cohesive dramatic experience.
Despite this, podcast interviews are incredibly common and it's easy to understand why. A great interview provides the listener a glimpse into the world of an expert or personality, affording them with a rich and new context and insight into subjects they might already know quite a bit about. Think carefully about how you can use an interview to enhance your own content.
If you've followed all the steps I've laid out thus far, you're almost ready to record your podcast. Way to go, slugger. Go get yourself that extra slice of cake. You've earned it.
When it comes to the actual recording of the podcast, you need to be mindful about your skills as a podcast host. In order to find success as the host of a show, you need to make sure your personality shines through in your shows. We asked an expert for a little advice on how best to start a podcast: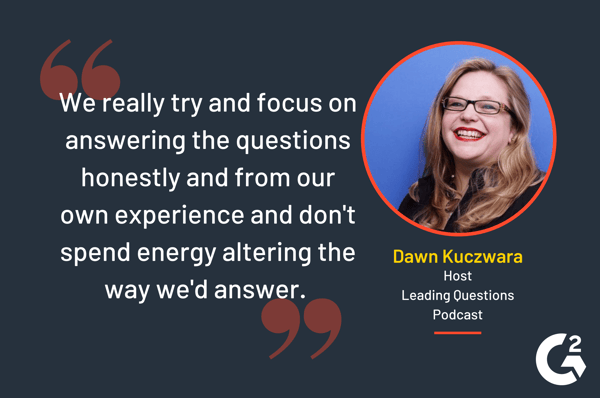 Maybe include something in here about practicing with the tone. What sort of host do they want to be? Is the podcast serious or more playful? A quick bulleted list can give them something to think on.
While there has been a lot of prep-work highlighted in this guide, it's ultimately you that will make people return to the show for week after week. And it won't be because you're the funniest or most insightful host on the web; it will be because they can get to know who you are.
You have your podcast sitting nice and snug in an audio file. The only thing left to do is to share it with the world!
The best way to do this is to use a podcast hosting service. These platforms are specialized websites where you can upload, store and distribute the episodes for your show. The main thing these services provide is an RSS feed that can be submitted to platforms such as iTunes or Spotify so that they can carry your podcast in their listings. This is a critical component to reaching a wide an audience as possible, and why simply posting the audio files of your show to your personal website just won't cut it.
TIP: Make sure your podcasts are well produced. Check out G2's reviews of audio editing software to help your shows sound the best they can.


Additionally, podcast hosting services offer a suite of helpful tools such as audience feedback and in-depth analytics to help you grow your show.
Looking to take your newly started podcast to the next level? Check out these tips from expert podcasters:
"If you want to launch a successful podcast, your audio equipment should not be an afterthought. If the production quality is poor, your listeners won't stick around. Either invest in the right equipment for creating audio content, such as a microphone, headphones, room soundproofing, and software or find an affordable studio to record. If you're looking for some possible options, try reaching out to local business incubators, accelerators, co-working spaces, or colleges. Many small recording spaces will rent by the hour and may offer discounts if you'll include sharing on your podcast that you're recording from their venue."
-Alex Membrillo, CEO of Cardinal Digital Marketing
"I've been listening to podcasts for years and what I look for in a podcast is content with context. Anyone can ramble on about a subject with guests but my time is short and valuable so I need to get the key insights quickly. I appreciate podcasts that are geared towards proving the listener with the information and story as quickly as possible without the need to take up 2 hours of my time to insert advertisements or random messages from sponsors that are irrelevant."
-Vipe Desai, CEO, HDX Hydration Mix
"The success of a podcast depends on how excited you are about it. Self-promotion is the best marketing because it shows you're excited about your content and, therefore, so will your audience (of course having a specific target audience is key). I've been able to grow my following on Instagram via the podcast as I promoted it incessantly on social media, and with the help of my guests as well."
-Marta Spirk, Success Coach, Mom Does It All LLC
"I have found that consistency is key and is a proven strategy for anyone just starting out. Also, with the development of a marketing strategy, a podcast with a distinct direction or clear niche can go a long way. Audience involvement is a great way to engage by allowing questions to be asked or to share information."
-Chanette Sparks, President & CEO, IBJ PR & Marketing
"Networking! We find that developing genuine relationships with likeminded people has brought us the most success. It has increased our word of mouth and connected us with more potential guests. We make an effort to go to events that are relatable to our niche as well as slide into the DMs of anyone who we think we could learn from!
I love listening to podcasts that offer tangible tips in a list format and also interview style podcasts where I can learn from successful people who are where I want to be. "
-Jacquelyn Son & Clara Coelho, Co-hosts of Glow Radio
If you've followed all these steps, you should have everything you need to create a podcast! Here's to wishing you the best of luck with your first foray into the content creation universe.
Piper is a former content associate at G2. Originally from Cincinnati, Ohio, they graduated from Kenyon College with a degree in Sociology. Their interests include podcasts, rock climbing, and understanding how people form systems of knowledge in the digital age. (they/them/theirs)
Tech
Some podcasts fail before the host ever hits record.
Tech
The inherent creativity of the human spirit manages to find expression in invention as much as…
Tech
The 'cloud' is one of those fashionable words that has dominated tech discourse as of late,…
Tech
There are so many podcasts out there, and many of them fail after the first few episodes.
Tech
The advent of online media has seen the rise of an entirely new profession: independent…
Never miss a post.
Subscribe to keep your fingers on the tech pulse.